This is a long piece about a man who made Aldridge his home, married an Aldridge woman thus continuing a long association with the Village for my family. It is my homage to a Grandfather I never knew and is perhaps therefore not of interest to many people but is important for me to record.
My search for my paternal Grandfather John Mason has been a
long one
and nothing has ever come easily, just as one breakthrough is made, someone comes along with a mortar and trowel to build yet another brickwall and then there are the anglers with red herrings. I will never truly know him, as he died when my Father was such a young child and he has only ghostly memories of John.
John was the son of
Henney
and her second husband William Mason, a coal miner and occasional colliery horse keeper. He was born at Christmas in 1882 in Littleworth, Cannock, Staffordshire. He had four older sisters and in the summer of 1884 was joined by a younger brother Charles. During that year the family moved to Aldridge and so began the long association I spoke of, with Aldridge and its surrounding villages, that lasted until death.
A month after his third birthday John and his family found themselves in perilous circumstances when William died succumbing to a fever following a leg injury. William is buried in Aldridge Cemetery and it appears that the family stayed in Aldridge for a number of years before the scandal of Henney's relationship with the local blacksmith Thomas Robinson became too much and the family started a trek around the local area and the Black Country. In 1891 the census records them as living in the centre of Wednesbury and by 1901 there had been a move to the colliery at Hamstead where John's now Stepfather Thomas, was a shoeing smith at the colliery and Henry, John's brother was a striker there. John is described as a soldier, a private and must have been visiting the family on the night the census was taken, as he had enlisted to fight in
The Second Boer War
.
John's records for his Boer War service are unfortunately lost but his service is referred to in his World War 1 service papers. He was a militiaman serving with the 4th Battalion, South Staffords, a reserve battalion that was actually armed, trained and had arrived in South Africa whilst the
1st Battalion Regulars were still mobilising
. He was just 18 years old. Perhaps the five pounds gratuity paid to militia volunteers acted as an inducement?
Map courtesy of Buzzle.com
The 4th Battalion of the South Staffords were part of
Paget's 20th Brigade
who were in turn part of Methuen's 1st Division. It is clear that John would have seen a lot of action during the advance through the Transvaal and The Orange Free State, indeed the Militiamen were known for their fearsome marching and fighting in what became mostly a guerilla war for his division. He also became ill with Typhoid Fever because part of his medical examination prior to service in the Great War recorded the superficial dilated veins which were as a result of Typhoid Fever during the South Africa campaign.
John would have returned home to the Midlands in 1902, not even 20 years old but already a veteran of war and extreme ill health.
On 6 March 1904 he married canal boatman's daughter Mary Ann Smith at St Peter's Church, Greets Green and nearly two years later their son and only child, named for his father, John Thomas Mason was born in Erdington. John was known as Jack, presumably to distinguish him from his father.
Sometime before 1914 John, Mary and Jack moved to Yew Tree Cottage, Foley Road on the Aldridge/Streetly border and here they stayed until after the end of the Great War. John worked as a Shoeing Smith, that is, he made and fitted shoes for horses, donkeys, ponies etc. He was well thought of. There is a reference from his employer John Joiner, a wholesale and retail coal merchant based in Wylde Green and Erdington which states:
"Sir, I have known Mr John Mason for nine years as being a Smith and he has mostly shod horses and I can thoroughly recommend him as regards shoeing. He does everything you need and (unreadable)...and I have always known him to be a sober and steady man"
Furthermore William Cooper, presumably his direct boss writes:
"I certify that John Mason has been in our employ for nine years and is (unreadable) regular and attendant to his work and diligent and industrious."
John received his enlistment letter in the early part of 1915. His service number prefix is 'TS' Transport Special. He was specially enlisted for his trade; a shoeing smith and therefore had a direct value to the war effort. He took his oath in Birmingham on 17 February 1915 and was appointed to the Army Service Corps, who in 1918 were awarded the 'Royal' prefix in recognition of their Great War Service. The ASC were the unsung heroes of the Great War and pulled off prodigious feats of logistics. Soldiers couldn't move without horses and vehicles and the largest element of the ASC was the Horse Transport Section.
He reported to Woolwich on 20th February but was sent home again because until 14th April he was surplus to requirements. I presume this is why he was awarded a Silver War Badge just after enlisting to keep those who favoured making gifts of white feathers, at bay.
On enlistment John was 32 years old, 5' 6" tall and weighed 150lbs. He had good physical development, had been vaccinated in infancy (
thank you Henney
) and his girth when fully expanded was 37". John had scars on both his left and right eyebrows but his vision was perfect. He may have been small by the standards of today but he was perfectly formed!
Throughout the service records John is described as a shoeing smith and yet on his medal record card his rank is given as "Driver (Acting Farrier Corporal)". I have learned through experience that many military records are only as good as the person who wrote out a particular entry and furthermore people were expected to be flexible. I have also learned that attempting to understand something as complex as the British Army in The Great War, is virtually impossible and can land you in all sorts of trouble! Whatever job John was doing, be it shoeing smith or farrier (and yes there is a difference) having reported once again to Woolwich on 14th April 1915 he then faced a long journey in double quick time to Avonmouth where he embarked the following day and set sail to Egypt, arriving in Alexandria on 27th April. 13 years after he had left South Africa he got to see the magnificent continent of Africa in the Northern Hemisphere. This is where John's work and war began.
As a 'driver' John was considered to be a soldier who was trained in the management and use of horses. He would have 'driven' wagons and looked after the horses and donkeys. It appears also that he was their shoeing smith too. Having been given a few days to acclimatise to the heat John was transferred to an advance supply depot and there he stayed for 5 months. He would have been in Egypt just a short while when he learned that his brother Charles had died. Charles had enlisted in Walsall a little earlier than John and had become a Lance Corporal in the 4th Battalion Kings Royal Rifles. He died of wounds at Ypres on 10th May 1915.
It seems that if you were in the ASC flexibility was necessary as transfers were a regular occurrence. At the end of September 1915, John was transferred to the Local Transport Depot at Imbros and arrived there 5 days later. Imbros now known as Gokceada and the largest island in Turkey, was then under Greek control but in 1915 it was an important staging post for Gallipoli. There was a field hospital, an airfield, administration blocks and stores buildings all constructed for the British Army. Presumably John's job there was to ensure that horses were in good condition and were cared for prior to being shipped the short hop across the water to Gallipoli.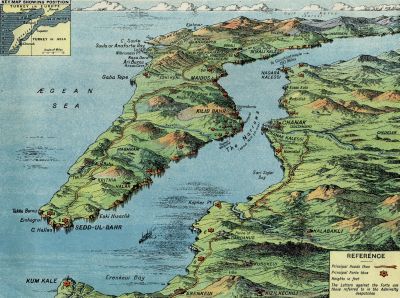 Map courtesy of Mapco
The campaign at Gallipoli had been continuing since April of 1915. By the end of August it had turned into trench warfare, conditions were worsening from the awful that they already were and dysentery was on the increase. By October the advantage of a continuing campaign had become doubtful but despite this on 6 October John was transported to Carpe Helles and by the 6th November was transferred to the the Corps Transport Depot there. When John arrived in Gallipoli the weather was warm but wet. It was soon to change. During the period 26th to 28th November Gallipoli experienced its worst storm and blizzard for many years. Starting with heavy rain in which the trenches were flooded, so badly flooded that water came up to men's shoulders and many drowned, there then followed snow and then a long frost. 10% of the men on Gallipoli lost their lives to the cold through frostbite and exposure. 280 actually froze to death. The only good thing to come out of this tragedy was that the dysentery stopped and finally a decision was made to evacuate forces from Gallipoli.
Carpe Helles was the last place to be evacuated and John left for Mudros on 6th January 1916, a morning described by Major John Gillam as lovely and calm. I was happy to see the date that John left because the following day they started shooting all the horses and donkeys on Gallipoli in order that they did not fall into the hands of the Turkish Army. I think it would have broken John's heart to shoot the horses he cared for. By 4am on 9th January 1916 Gallipoli had been abandoned and all were gone.
Mudros was and still is a small port on the Greek Island of Lemnos and John joined the Local Transport Depot there awaiting shipping to become available before departing to return to Alexandria and the Base Horse Transport Depot where he arrived on 14 January 1916. There he stayed shoeing and looking after his horses and continuing his association with the 42nd (East Lancashire) Division, begun at Carpe Helles, for the next 13 months.
On 23 February 1917 John embarked the SS Transylvania in Alexandria and disembarked a few days later in Marseilles. The SS Transylvania was a steamship launched on 23 May 1914. It was originally ordered as a passenger liner for the Cunard subsidiary Anchor Line and was designed to accommodate 1379 passengers however, she was taken over as a troop ship on completion. The Admiralty fixed capacity at 200 Officers plus 2860 men and crew. It would not have been a comfortable cruise! On 3rd May 1917 just two months after John had undertaken his journey to Marseilles, the ship departed that port to return to Alexandria. The following morning at 10am she was torpedoed by a German U boat and sank. 412 men lost their lives.
Picture courtesy of Wikipedia of SS Transylvania
Once in Marseilles John was formerly attached to the 1st East Lancs Field Ambulance 42nd Division and then travelled north to the Western Front with them. The Field Ambulance was a mobile frontline medical unit (not a vehicle) and ASC Drivers like John were attached to the divisions who relied heavily upon horses for transport. Each division had 14 riding plus 52 draught and pack horses who worked 23 wagons, 2 water carts, forage carts, 6 general service wagons, a cooks wagon and 10 ambulance wagons. John would have been kept busy as he travelled first to the front line at Epehy and then Havrincourt where he stayed, witnessing what I do not wish to imagine until July 1917. John then suffered a 'fever' and following his recovery was finally granted 14 days leave after over two years of service, all undertaken abroad.
On his return from leave John joined the Horse Transport section at 15 Reserve Park, GHQ Troops in France. These units were responsible for heavy artillery (siege) ammunition columns and were expected to hold and maintain sufficient supplies for an infantry division for 2 days. There were 59 general service wagons and 358 horses so once again, John was kept busy. He stayed with this section until the end of the war and was even granted another 11 days leave in March 1918.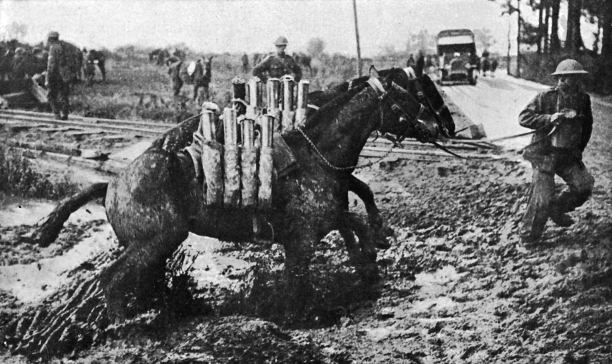 Image courtesy of HistoryToday
Armistice Day arrived and John remained in Northern France for a little longer until he succumbed to the Spanish Influenza that by then was claiming so many victims. He was first invalided to Guildford Castle Infirmary on 13 November and then admitted to the Casualty Clearing Station at Eastleigh suffering influenza on 14 November 1918, leaving on 25 November when he was granted 14 days furlough to be residing with his wife and son at Yew Tree Cottage on Foley Road. John was finally discharged to Class Z Army Reserve on demobilization at Woolwich Dockyard on 11 February 1919. He claimed no disability and had an exemplary conduct record.
John also left the army with his Post Office Savings Bank account of which 20 pounds had been deposited during his service. John was a diligent saver and before the balance was transferred to another book in 1925 he had managed to accumulate 58/16s/3d. Perhaps he held dreams of working for himself. Whatever dreams John had at the end of the Great War, they were to be cruelly dashed.
On his return home John, Mary and Jack moved first to Rose Cottage in Stonnall and then in the early 1920s, to a cottage on the Walsall Road in Aldridge. The cottage is still there, behind a hedge by the old mile post just by the junction with Paddock Lane. In its original condition it would have been tiny. His neighbours were the Plants. John got a job as a shoeing smith at one of the Aldridge Collieries, I've never been able to ascertain which one and life continued. John clearly wanted something different to the hard life of labour that he had endured, for his son Jack and Jack trained and became a weight and scales tester. For a while life was quiet but then in February 1925 John's mother died and it was not so long afterwards that Jack became ill. John and Mary's only child died of a brain tumour on 3rd November 1928 at that tiny cottage on the Walsall Road surrounded by his loving and bereft parents. His gravestone (no longer extant) was inscribed in a simple manner:
"Sacred to the memory of Jack, the beloved son of John Thomas and Mary Ann Mason who passed away November 3rd 1928, aged 22 years. We cannot Lord thy purpose see, but all is well that's done by thee"
Just 12 months later John was standing at that same grave once again, this time burying his wife.
Next door to John my Grandmother Lily, had returned home. She was a tiny, pretty, blonde young woman who had known her own troubles in her short life. She was 20 years younger than John. I like to think that she brought him some happiness and comfort in the dark times that John was enduring. Clearly there was a spark between them but life was a little complicated for them in that Lily was awaiting a divorce. This was finalised in January 1931 and a few weeks later they married. Later that year their daughter was born and a year later my father was born in that same tiny cottage.
And that would have been it for a while had fate not decided to turn her dark hand one last time for John. All his life John had been a survivor. He had survived the extreme poverty and bad luck of his childhood, losing his Father at just three years of age. He survived fighting as a militiaman in the Boer War, not even sustaining injury. He survived Typhoid Fever. He survived Gallipoli. He survived the German U Boats. He survived the Western Front. He survived the Spanish Flu pandemic. He survived the heartbreak of losing his son and wife within 12 months of one another. Unfortunately for John when he contracted bronchitis in September 1937, his poor body that had laboured hard and long all of its life, weakened by Typhoid and Spanish Flu and all the other privations endured, survival was no longer an option. He was just 54 years old. I celebrate my own 54th birthday this year. That brings it all home to me.
There is so much still to be discovered about John but for now, this is his memorial. Another ordinary man, who lived through extraordinary times, who saw places that hadn't even existed in books for him as he was too poor to own them, who witnessed unspeakable horror and who died a long time before I was born but is after all my Granddad.